What is "Blacklisted Phone"?
A Blacklisted Phone is a phone which was reported as stolen or lost. "Blacklist" is a shared database of service providers and carriers that enlists phones nationally or internationally. That country's network carriers would not support a phone reported in Blacklist.
Smartphones are listed by their IMEI Number, which is a unique 15 digit number. There are reports that Blacklisted phones can be used outside the country's frontiers, but it will be interesting to note that many countries have a similar Blacklist, and these are shared on an international database administered by the GSMA. This means a phone Blacklisted in the USA will not be connected by any network carrier in any of the other participating countries and vice versa.
Australia was the first nation to implement IMEI Blacklisting, and other countries followed suit in 2013. IMEI Blacklisting is an effective way to fight phone theft as a phone that cannot be activated on any network is not very valuable. Also, you can't Unlock your phone till the time your IMEI is blacklisted so its better to check IMEI
Blacklist Status.
What are the possible reasons for Blacklisting IMEI
If you are planning to buy or sell a used phone, you must ensure that your phone is not barred from activation. Here are some of the possible reasons why your phone is blacklisted :
Reported as Lost or Stolen
All over the world, over 40% of thefts are of smartphones. Despite society's best efforts, it is almost impossible to prevent it completely. So it is possible that the money you saved while buying a used phone turns out to be a sheer waste as your device's IMEI is blacklisted. Thus one should be careful when purchasing a second-hand phone. IMEI Blacklisting is an attempt by Smartphone manufacturers (like LG, Samsung, Apple, Huawei, etc.) and network providers to combat this theft problem.
Unpaid Bills
Default on payments is a common reason for blacklisting IMEI. When a phone is tied to a particular network carrier, its IMEI might get blacklisted on failure to comply with the payment contracts. When IMEI is blacklisted on account of unpaid bills, the owner can contact its network carrier and pay the dues. Once the dues are clear, the IMEI will be removed from "Blacklist", and you can easily Unlock your device.
Phone Insurance Fraud
Phone insurance fraud happens when someone reports their phone as lost, stolen or broken; however, in reality, they are after a discounted replacement. It is more common when someone buys a used phone and while changing carrier discovers that their phone's IMEI is in Blacklist. Mostly your carrier cooperates with you in activating your phone, but one must be ready for a vetting process.
Improper Information
Whenever network providers feel that your incomplete or inappropriate information might make you liable to default on payments, they can Blacklist your IMEI. Network providers need your details like contact details, billing address, credit card details among others to send you bills, troubleshoot and more. It is always recommended to keep your carrier updated with your information.
A blacklisted phone is essentially an expensive paperweight. Thus, it is always advisable to check your IMEI Blacklist Status before buying a used phone.
What are the disadvantages of a Blacklisted Phone?
A Blacklisted phone is not more than a costly MP3 Player, camera and a gaming machine. There are many reasons why you should be careful before buying a phone whose IMEI is in Blacklist
Can't Unlock your phone
A Phone whose IMEI is in Blacklist cant be unlocked to shift to a cheaper and better network carrier. No local network provider can provide you with their services till the time you remove your IMEI from Blacklist. For example, if you are looking to Unlock LG device, you won't be able to switch your network carrier. Network Unlock servicer providers like Unlockninja strongly recommends its users to check IMEI Blacklist Status before making a purchase.
Can't Sell for the Best Price
As an innocent seller of your phone, you won't be able to fetch the best deal for your device. With growing awareness, people prefer to check IMEI Blacklist status. An investment of less than $2 can save your huge investment.
Can't Change Network Provider
When your IMEI is blacklisted due to unpaid bills or defaults of payment, it is not possible to change your network carrier. Also, your number will be marked by your carrier as "defaulted". Please note that even if the phone in question is deactivated from the defaulted account, it could still appear on the Blacklist.
How can you check IMEI Blacklist Status?
IMEI stands for International Mobile Equipment Identity. This 15 digit number is unique for every device and is a mark of identity. It is usually found printed inside the battery compartment of the phone, but can also be displayed on-screen by entering *#06#.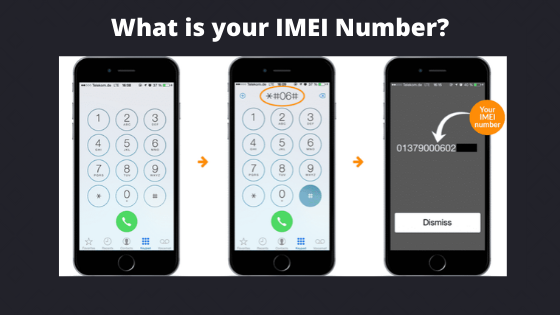 IMEI Blacklist status can be checked in two ways. First is to call your network carrier and prey for the information. However, if your fortunes are with you, they will let you know whether your IMEI is clean or not. But this will not solve your purpose as details like where, when and by whom the device was blacklisted are still unknown. Other and more effective way is to let unlocking websites like Unlockninja to do IMEI diagnostics for you. It is faster and far better an option as it takes not more than a few minutes. It's 100% legal and safe. When you are planning to sell your used phone, "IMEI clear status" acts as additional proof.
Is there any way to remove IMEI from the Blacklist?
To remove a phone report for theft or loss, the owner just has to contact the network provider and request the phone's removal from the Blacklist. Network carrier will ask for the valid documents, once you provide the documents your device's IMEI will be removed from the Blacklist.
To remove your phone from Blacklist for an unpaid bill, you have to contact the network carrier and settle all the due payments. Once the payments are made, network carrier will remove your IMEI from the Blacklist.
Thus, a blacklisted phone is incapable of initiating or receiving calls. Before locking yourself with a blacklisted phone, first, check its IMEI Blacklist status. Always buy a clean phone with which if you are not happy, can sell at best prices or unlock the phone to change the network carrier
Top brands we unlock:
Related Post: