Samsung phones are the most sought after phones after apple iphones. The entire landscape of the android phones' market has changed drastically with the introduction of Samsung phones. The company also hasn't left any stone unturned in order to satiate the demands of various buyers by always introducing new and innovative features in every new model of the phone released. The reliance of people on samsung phones has gone to an extent where they can't even imagine their lives without holding a samsung phone in hand. The advanced and useful features of samsung phones are the ones that make them extraordinary and likable by every individual. The most popular phone models include Samsung galaxy S9 plus, Samsung galaxy S9, Samsung galaxy note 8 and Samsung galaxy Fold.
Let us gather a clear idea about the meaning of unlocking of samsung phones and why it is considered necessary.
The unlocking of samsung phones means freeing your phone from a network provider or a GSM carrier to which the phone was locked to when it was shipped. It is usually done so that you can switch your network providers conveniently at any point of time and also use your phone to the best of its capabilities. Also, an unlocked phone always works better than a locked one in every way.
Benefits of unlocking Samsung phones include:
Travelling with a locked phone to a foreign country can attract high roaming charges. However, by unlocking your phone, you can use the local carrier SIM of the country you have travelled to without worrying about the roaming charges.
Different service providers
By unlocking your phone, you can choose the network provider that offers you the best plans and coverage as per your needs.
Customisation of an unlocked phone
It means you can get full control over the various mobile applications on your phone because of the lack of locking software that can limit the access. You can even customise it to the extent of changing the look and feel of the phone.
Reselling of an unlocked phone
Unlocked phones are easier to resell than the locked ones due to the fact that buyers are usually more attracted towards unlocked phones because they help them to use different GSM carriers and enjoy their phones to the fullest.
Prerequisites to unlocking a Samsung phone:
There should not be any

fraud

with the samsung phone.

The phone should not be reported

lost or stolen.

Ensure your phone is locked by network or locked by

"Device Unlock App"(For T-Mobile and MetroPCS Users).

The phone should prompt for

unlock code or sim network unlock pin with a non-supported GSM network SIM card

(Like if it is locked on AT&T then use T-Mobile SIM ).

The

IMEI Starting with 9900xxxxxxxxxx

with locked on any CDMA network is

not eligible to unlock

.
You can carrier unlock your Samsung phone by the following two methods:
A. Contacting your carrier
You can call the carrier with whom your phone is locked:

Your carrier allows you to unlock the phone after some amount of time has gone by or the contract period is up. However, if you ask them to unlock the phone before the expiration of the contract period, you might be asked to pay an early termination fee.

Contacting the carrier with whom you intend to switch with:You can call the carrier with whom you intend to switch your network provider with for

unlocking phone

. They might do it if you are switching with a rival company of theirs.

Looking for codes for the phone: You can search for the generic codes for older models on the internet as they are available as the phones get older.
B. Availing a paid unlocking service
Finding your phone's IMEI number: It is a must have at the time of ordering

unlock codes

. In case you do not have it, dial

*#06#

.

Finding a renowned unlocking service: You must select a service that is reviewed positively by the users and also offers a guarantee.
Requesting a code: You need to provide your IMEI number, contact and payment details and ensure all the details are totally accurate.
Inserting your new SIM: After receiving the unlock code, all you need to do is to switch your phone off, remove your old SIM and replace it with the new SIM.
Switching your phone on: You will get a notification to enter the unlock code to be able to connect to the phone network.
Verification of being connected: Your phone immediately gets connected to the new mobile network if you have entered the unlock code correctly.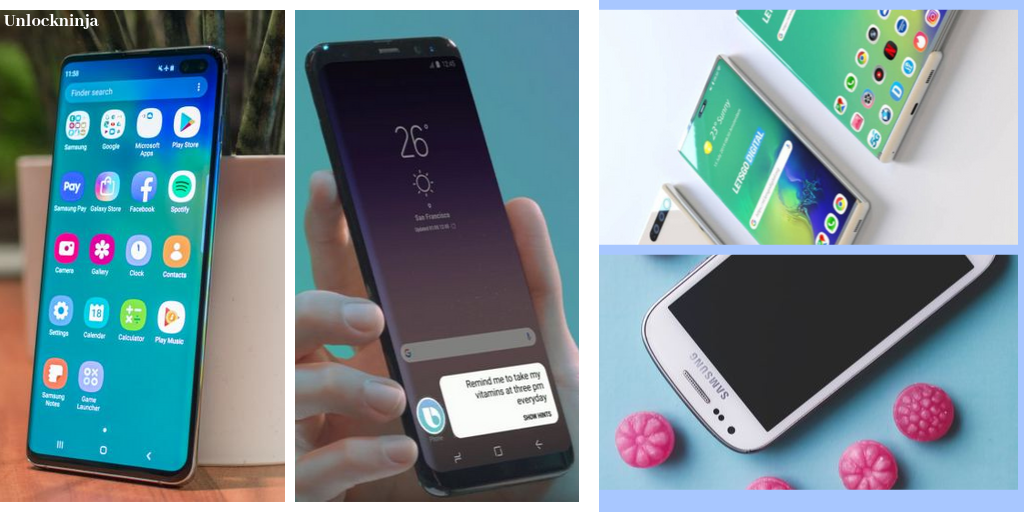 Unlocking instructions for Samsung phones
To unlock your Samsung phone from any network provider or a GSM carrier you need to take care of the steps mentioned below:
Choose the brand name for your device.

Choose the model number/name of your device.

Choose the country where the device is locked.

Choose the network carrier with which your device is locked.

Pay for your services. You can select either of these options to pay

Samsung unlocks

– PayPal or Credit and Debit cards of – MasterCard, Visa, American Express and discover.
Once you have made the payment, our service provider will ask for your device's IMEI number. To get this number you can either call on *#06# or check at the back of your phone under the battery pack on a silver sticker. This 15 digit number will help us to retrieve the unlock code from the network carrier for you. Once you get this unlock code, insert another SIM card in your device which is not of your current carrier. After you insert the SIM card it will ask for the unlock code. Insert that unlock code and unlock your Samsung phone.
How to get unlock code for Samsung phones
Once your contractual period is over then you can easily switch to another carrier which is more money-saving and provides more coverage at the same time. But for that you need to get your samsung phone unlocked. Thanks to the legislation and the Federal Communications Commission which has made this process of unlocking way easier and legal and 100% safe. To unlock your Samsung phone you need some information handy. As soon as you share the required information you come a step closer to get the unlock code to unlock the Samsung phone.
NCK, MCK or SPCK codes for Samsung phone
There are certain codes which help you to unlock your samsung phones.
Network unlock key:

This code frees the phone from the presumption that it comes with a device whose network can only work on this phone.

This is also called the unlock code. In order to obtain it, you need the phone's IMEI number. This code is easily obtained either from a network carrier, a mobile shop or from a third party service provider
Master code key:

It is also called "unfreeze code". It is used when someone enters the incorrect unlock code a number of times. This is only needed when your phone displays a message

" Phone Freeze". This code is easily obtained either from a network carrier, a mobile shop or from a third party service provider.
Service provider code key:

It is only needed when a samsung phone demands it. It is demanded when a user enters a SIM card that does not support their current network. Users generally get confused between NCK and SPCK codes. Therefore, it is imperative for the user to know which code the samsung phone is demanding.

This code is easily obtained either from a network carrier, a mobile shop or from a third party service provide
All the three codes mentioned above are 8 digit numbers that help you to unlock your samsung phones in one way or the other.