Congratulations! You are just minutes away from unlocking your Samsung phone with the code you bought on Unlockninja. Today with this tutorial we will explain to you the steps of using your Samsung unlock code without any hassle. This guide is also helpful if your Samsung mobile device is in "Phone Freeze" condition.The unlocking instruction is global and applicable to unlock all Samsung model.
The unlock codes delivered to you may be a single code (Only Network Unlock code or NCK Code ) OR its may include the network code, provider code, sub-provider code, DE-FREEZE code, and extra code.
How to unlock Samsung phone if you only got the network unlock code (NCK code):- If the unlock code mailed to you, only have network unlock code (NCK code). Simple Use the Method-1 defined as below to unlock your Samsung phone
How to Unlock Samsung Phone if the unlock codes emailed to you will look something like this:
NETWORK=09875986 PROVIDER=98767895 SUBPROVIDER=34567654 DEFREEZE=98767896 EXTRA=00000000
NETWORK is also called NCK (network code key)
PROVIDER is also called SPCK (service provider code key)
SUB PROVIDER
DE-FREEZE
EXTRA
Now you need to find out which code is required to unlock your Samsung phone. To do so you need to find out lock level of your Samsung phone and the follow the method-1 as below:-
Find the lock level:- to unlock your Samsung phone you need to find the lock level first, means which code you need to use
How to Find which code you need to use:-
Switch off your phone and enter the sim card of your existing network provider or the network your phone is locked with. For example, if you are locked with AT&T's network, insert AT&T's sim into the device.
Enter the code, *#7465625#
You will now see a menu with different options.
The menu will include:- Network Lock, Subset Lock, SP Lock etc. as shown in the image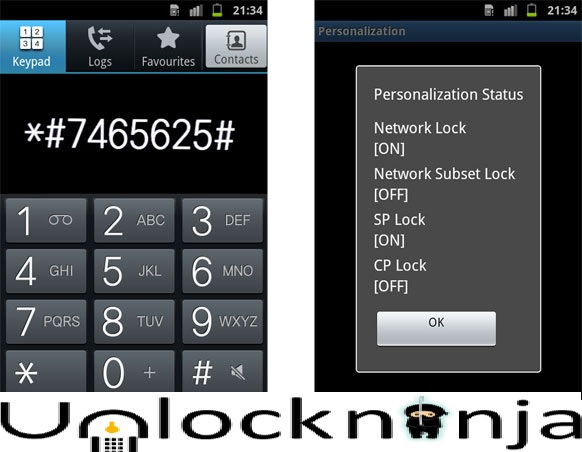 Here is the lock levels
If none of the lock levels is ON, it means your phone is unlocked.
If the network lock is "ON" then you only need to use Network Unlock Code (NCK Code) by following the Method-1
If you see the Subset lock is "ON" then you need to use the PROVIDER OR SUBPROVIDER (SCK OR SPCK) (which one will be accepted) by following the Method-1
If you find the SP lock in "ON" then you need to use Provider code (SPCK) by following the Method-1
The DEFREEZE OR UNFREEZE is required only if:-a) Incorrect unlock code being inputted too many times (More then the given attempts)
b) Your phone display a "phone freeze" error while inserting a non accepted sim card
c) Your phone display a "return for service" error while inserting a non accepted sim card
Samsung Unlocking Instructions (How to enter unlock code into Samsung phone )
Method-1:- If the Phone is asking for Unlock Code with a non-accepted SIM Card
Switch off the phone
Insert a non-accepted SIM card in it and switch on (For example, if you are locked with AT&T's network, insert Non AT&T's SIM into the device)
Wait for few seconds until its it asks for a "SIM Network Unlock PIN" OR "Unlock Code" OR "NCK Code"
Insert the Unlock Code Delivered to you (Use the unlock code according to the lock levels)
If successful device will display "Network unlock successful" message
Your phone is now Unlocked to use any GSM network SIM
How to unlock Samsung phone is its not show a option to enter a unlock code on insertion a non-accepted SIM
In case your Samsung phone not prompt for unlock code with a non accepted SIM Card Try the methods below:
Method-2
Switch off the mobile, take out the SIM from another carrier, you inserted in the previous step and switched on your phone.
Go to the phone dialer; you will see a blank space which asks you to enter the lock control key. Enter the code – #7465625*638*#, in that box and click "Unlock."
Next, your mobile device will ask you to enter the unlock code, enter the 8-digit Samsung Unlock Code you have.(Use the Network Unlock Code)
Method-3
Turn off your mobile device again and insert the SIM card from another network provider and switch on your device
Now your phone will prompt you for Samsung unlock code. Type UNFREEZE code.
If you still do not see network unlock menu, go to your phone dialer and type the code UNFREEZE in the blank space and click call button, send button or press enter.
After completing this step, you may receive a "process unsuccessful" message, but there is no need to worry about it. You can simply ignore the message and move on to the next step.
By now your mobile freeze has been disabled. Now you will be able to see the Network Lock screen or SP Lock screen.
Enter your unlock code for Samsung for the Network Lock screen. For SP Lock screen, enter SERVICE PROVIDER code.
Congratulations! Your device has been unlocked.
In case, your Samsung mobile phone is still reluctant to be unlocked, click on the "Dismiss" button and enter the code *2767*3855# via the keypad of your phone and repeat the whole process once again.
Note: Remember, this process will delete all your data, and your phone will be formatted.
Method-4
Another way of unlocking the phone is by entering the code – #7465625*638*CODE#. Here ["CODE" we mean the Samsung Network Unlock Code you received.
For this step, it is not compulsory to insert a SIM card into the phone. You can do this, both with or without the SIM.
Method-5
Another trick you can use to unlock your phone, with or without an inserted SIM card, is by entering the code – #0111*CODE#. Here again by code we mean the Samsung Network Unlock Code sent to you.
How to Unlock Your Samsung Phone with the Device Unlock App? (T-Mobile or MetroPCS Server)
Make sure your phone connected to active data connection via 3G/4G/LTE or Wi-Fi,
From the app menu , find the unlock app and tap Device Unlock.
Tap Continue
Wait for the device connects to the server.
Choose the device unlock type. "Permanent Unlock"
Wait while the device requests the unlock
If successful, restart the device to apply the settings as permanent unlock
if you get any error please check the official guidelines by T-Mobile
Troubleshoot your unlocking process for Samsung phones
While completing the unlock process, you may see some error messages on your phone screen, that restricts you to unlock your Samsung phone successfully. Some of the general error messages you may see are:
Failed to request
Unlock code request unsuccessful
Failed to unlock network
Your attempt failed
The causes of these errors are:
#1 You or the previous owner of the mobile devices might have entered too many incorrect codes. This situation is also known as "Phone Freeze.
#2 The mobile device does not run on an original ROM or the ROM installed in your mobile or tablet is a customized one. The provided unlock code will only work if the ROM installed in the device is original.
#3 The code you entered is wrong. This may happen if you entered an incorrect digit or missed a number from the code. In this case, recheck the code you have and match it carefully with the one you entered in your phone. If both the codes are same, contact the cell phone company who provided you with the code. They may have given you the wrong code. Although this situation is rare, it can happen.
Phone Freeze Scenario
To rectify this error, you require two codes. The first one is the Network Unlock code, also known as NCK Code and UNFREEZE or DEFREEZE key, also known as the MCK key.
Remember, to keep your phone safe and bug-free, before starting any process switch off your device correctly. Now replace your old SIM card with the new SIM card, switch on the device and enter the PIN in the device.
When you see the "Phone Freeze" message, enter the UNFREEZE or DEFREEZE code and confirm by pressing "#" or "OK" or "Call" button.
Do not worry if you see the phone screen to be blank. This is normal, and your phone has no technical faults. You keep on typing the code blindly.
Another way of doing this is when your device shows "Phone Freeze" error, enter "#7465625*638*UNFREEZECODE#" (without the quotes) and insert MCK code provided to you by replacing the UNFREEZE CODE.
If you are still facing issues, enter the NCK code, press OK button and confirm. Then enter the MCK code, again press OK button and confirm. Now enter the Unlock Code carefully, your device will be unlocked.
Before you start using the phone, do not forget to reboot the device.
Unlocking a non-original ROM Device
If you have a device that works on a non-original ROM, before getting your unlock code from the supplier, you need to reflash you Samsung mobile by using an authentic Android Platform. Once you replace the non-original ROM with an original setup, search for you unlock code and follow the steps mentioned above.
Top brands we unlock:
Related Post: